Well, it's taken me three years to figure it out but I finally dialed-in my sunflowers. The Secret: I built a big and deep raised bed with well-composted soil from indoor gardens & yard/grass clippings. Then I watered them deeply every day! The largest one, which was right in the middle of my garden was 12'7", and had 8 flowers at top – and took at least 1 gallon of water per day.
But, while I really do love sunflowers they overpower everything. So now that they've all fully flowered, I'm taking them all down so my tomatoes can get water & more sun. And, given ever decreasing water resources, next year I'm going to grow just two Sunflower plants; all told they are really quite beautiful, and best of all have attracted honey bees, about which I worry as their numbers dwindle.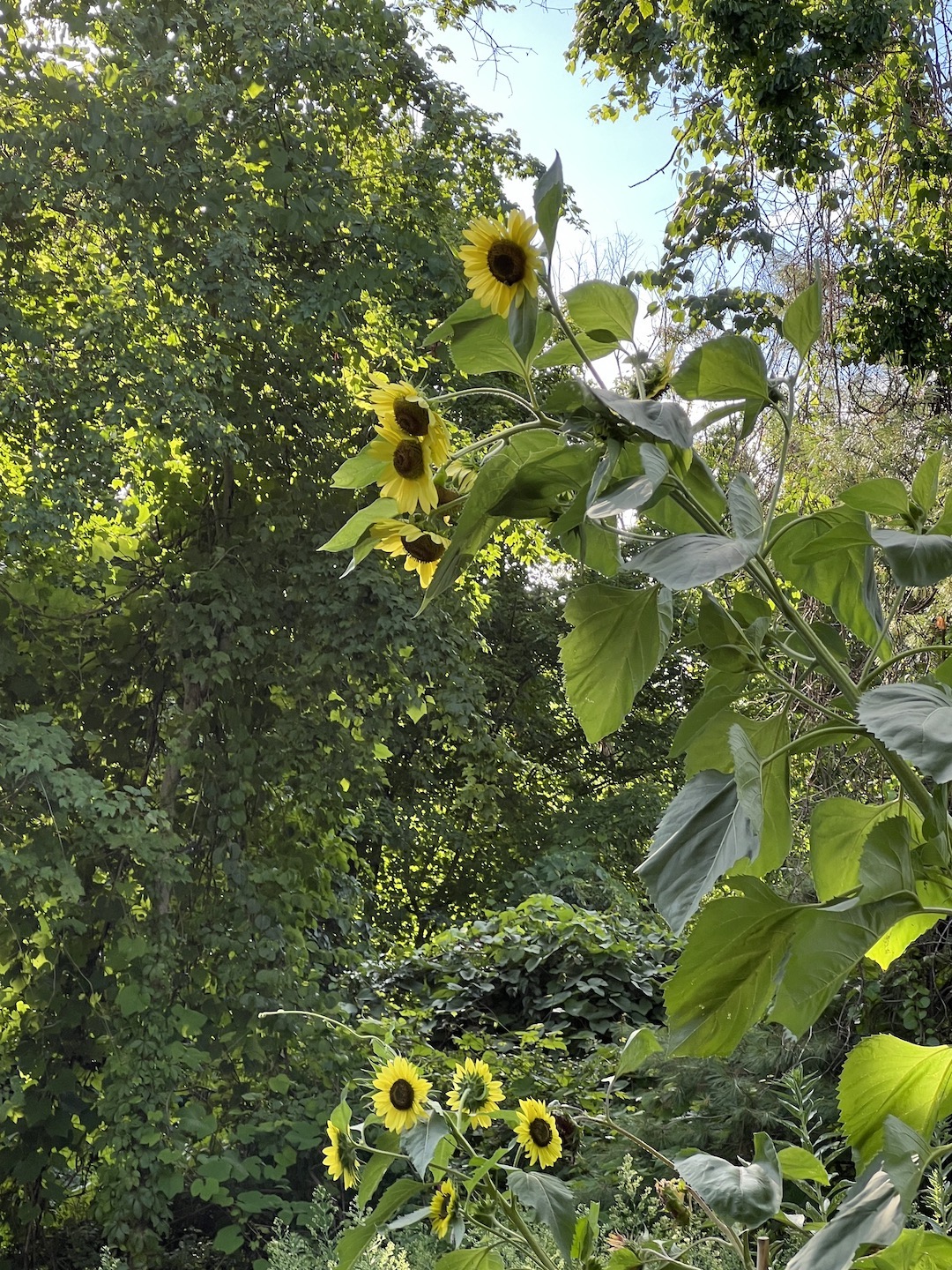 Now my biggest BGO (Blinding Glimpse of the Obvious) for my garden, now in its third year, is simply: do not plant so many veggies and/or flowers as I have. The fact is in my desire to maximize my garden space, I simply planted too many things; and most everything I planted did not get quite enough room to fully flourish.
I also need to better learn plant thinning techniques. While it goes against my sensibilities, it's crucial to better outcomes.
The one piece of good news is my plum tomato plants have produced big time. I've already run a couple dozen through the Folly, an Italian utensil designed to crush tomatoes into tomato sauce while removing the skins. I now have almost a gallon of tomato paste, which I'm going to turn into my famous BBQ sauce.
While it's still too early to harvest, my carrot patch is thriving too. And, my Resina Calendula flowers, known for their medicinal properties, have supplied a steady output of yellow flowers that look a lot like dandelions, which I'm drying out for use once I get smarter on the plant and its historical uses.
The only real casualty was my Poppies. They started out strong, but fell victim to overcrowding. As my mother used to say: "too old we get smart." So next year the poppies will have a space all their own.
And that, my fellow gardeners, is all Mother Nature wrote for my yard's garden this season. But there is some good news for gardening fans: the indoor gardening season is here!
Who better to learn indoor gardening techniques from than The Indoor Gardening Experts™?
Come in and talk with our staff anytime, and enjoy the benefits and charm of gardening year-round. You're always welcome!
With this post, Tom Lanen, principal of ThomasBoston (Thomas Marketing Services Corp), brings his 5-year tenure as Marketing Director for New England Hydroponics to a close; all marketing will now be handled in-house by its new owner, Hydrobuilder Holdings. Tom thanks you for your kind comments along the way, and wishes you all happy trails!