What an amazing experience growing my first real outdoor veggie and flower garden has been! And wow, have I learned from all the mistakes I've made. But you know, that's half the fun. I'm especially proud of the fact it's fully organic - I haven't added anything but water to the soil mix I created (see first post in this series for info).
Frankly, my garden has been so successful, I've been overrun with vegetation – weeds included! My string beans, which I never thinned out as directed on the seed package, have all but taken over the garden. But in doing so have produced prodigious amounts of these tasty veggies, many of which (actually all) I've turned into my favorite spicy beans & garlic dish. You can also par-cook the string beans in in water/steam and freeze for later use.
Tom's Spicy Garlic Green Beans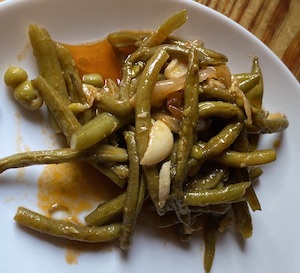 1. Par cook/steam whatever green beans you have/want to use: about 4-5 minutes on stovetop pan or in a covered microwave dish with a touch of water.I also had some snow peas from over-ripe pea pods I threw in.
2. Cut up and sauté garlic cloves and any size onion in olive (or a good vegetable) oil on medium heat. Leave garlic cloves whole after peeling; I'm a garlic nut – they turn sweet after sautéing, so I use a whole bulb – about 10-14 cloves.
3. Add a bunch of par-cooked beans and spices (below) to sauté with a ¼ cup of water
4. I like siracha & lots of black pepper, a pinch of salt, and I also drizzle in several tablespoons of my favorite Hot & Spicy Sweet Baby Rae's BBQ sauce to give it a light tomato/spicy oil 'sauce'
5. Don't over-cook; should have a little crispness left in the beans
6. Store overnight in fridge to let spices marinate the beans. You can eat the day you make it too – it's just a little better after marinating a bit
7. Reheat lightly in microwave or eat cold in a salad
Bunnies & Chipmunks & Deer (Oh My)!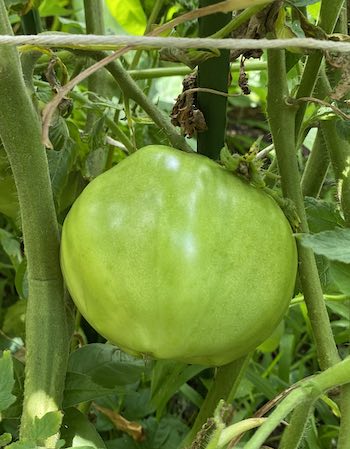 Here's the thing – in the beans taking over my garden I had just too good an excuse not to replant lettuce or spinach as planned. Though fact is, I also discovered my garden is home to a family of little bunnies who love lettuce. Problem is my family (and dog Bowie) have some sort of loving attraction to the little buggers (I read my kids Beatrix Potter's Tales of Peter Rabbit more than once when they were kids) so I'm just leaving them be. But next year my current so-called 'bunny-proof' picket fence is going to get a layer of chicken wire over it to keep bunnies and chipmunks (my sunflower marauders) out.
And yes, I'll put down some deer repellent from day one: my tomatoes have recovered nicely after I discovered deer reaching in to eat the top flowers, and used some store bought deer repellent around the perimeter of my 2' high fence. I haven't picked any tomatoes yet, but I supported the plants with poles and used Velcro™ Plant Ties to manage them – sort of. The good news is I have some big ones getting ripe on the vine, so soon we'll have mass quantities to make sauce.
I am also getting an ongoing supply of snow peas, even with putting them in late as I did. My wife and kids love in salads, but I also make a tasty & simple stir-fry with them, using whatever leftover meats (chicken, beef or pork) I have in the fridge.
Tom's Simple & Tasty Snow Pea Pods & Beef, Chicken or Pork
1. Sauté garlic cloves (as many as you'd like) and a cut-up onion on medium heat in olive or good vegetable oil; add a touch of salt until the onions are translucent
2. Add snow pea pods, meat and spices (below) to sauté pan – toss and stir about 4-5 minutes until snow peas turn bright green (but are still crisp) and meat is warmed through
3. Add spices: garlic cloves, salt, pepper, soy sauce, siracha, and ginger to taste. I also drizzle in a couple/few tablespoons of water and my secret weapon Hot & Spicy BBQ sauce (my kids always rag me how I use it for everything - and I do. It just has that right amount of spice for my taste!) Use some sort of tomato sauce (Ragu, canned tomato sauce or cut up tomatoes, etc.) if you prefer
4. Add pre-soaked rice noodles rice noodles to the sauté, toss and coat with pan sauce, cover and reduce heat for 5 minutes - add enough water (and even more soy or BBQ to taste) so the noodles don't get sticky as you warm it all; give one last good mix and plate. Serve with cut-up fruit on the side.
Mysteries Abound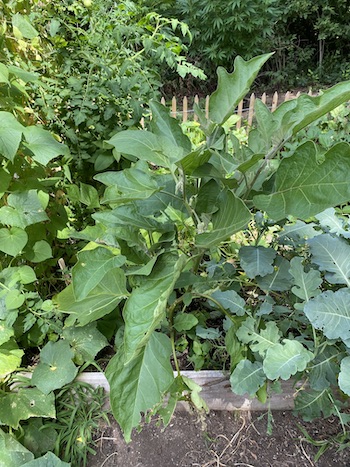 Now my eggplant remains a total mystery, as does broccoli. The eggplant (picture right) has grown huge elephant ear-type leaves, and a dozen blossoms that have looked ready to produce a fruit – but nothing so far. I'm told they need a lot of water, so this heat may be having an adverse effect, even with nightly watering (we have a private well).
Broccoli (left) I don't get at all. It appears the bugs like its leaves best – they are peppered with bug holes. I've yet to see anything resembling a broccoli like we buy at the store, which I think will become my fallback after this – though I can't help but see it as a challenge for next season; I just need more pant-specific knowledge.
I've never had so much parsley in my fridge in my life. From a little start came bunches of the stuff, some of which I give to a pal Michael who has with a middle eastern (and Italian) heritage.
He makes a tabbouleh (taboule or tabouli to some) so delicious as to make you want to cry, which as I learn is a family recipe from his grandmother, which he's shared with us.
Sitto (Grandmother) Lila's Tabbouleh
1. Rinse (two or three times) and then soak ½ cup of Extra Fine #1 Cracked Wheat in water – expands to double or triple. (Get from a Middle East Grocery Store or Whole Foods)
2. Chop a bunch of parsley very fine with a very sharp knife – do not food process; it becomes mush
3. Chop a bunch of scallions fine
4. Chop a good middle eastern Mint (dry or fresh from a Middle East Grocery store) - NOT SPEARMINT OR PEPPERMINT
5. Chop 1 or 2 small tomatoes – extra fine (as small as you can – do not food process)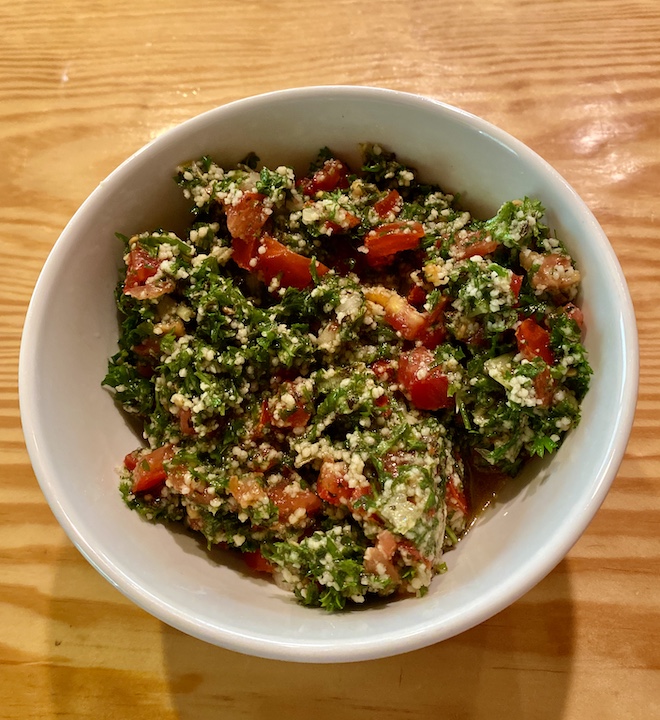 6. Get the juice of 1 ½ - 2 fresh lemons
7. ¼ cup great olive oil
8. Dash of salt
Combine all ingredients and refrigerate an hour or two before serving. Just pair it with some hummus and a nice fresh pita bread, and you have a vegetarian feast!
Michael says the main difference between his tabbouleh and the type you buy pre-made in the store is his has parsley as the primary ingredient instead of cracked wheat as the dominant one. But I wish it was just that: I cook well, and I still can't make mine taste like his – the man is a professional! Though the one I make is still way better than the store-bought version if I do say so myself!
More To Come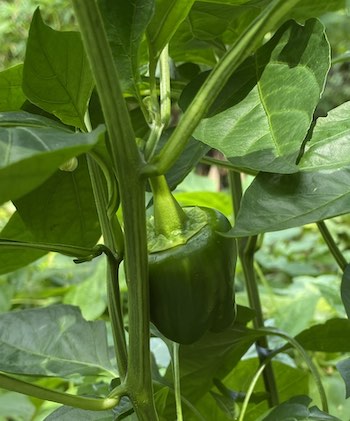 Short of cucumbers (a lot), green peppers (just starting to bear fruit) and tomatoes to come, beets have also provided me with a good outcome.
The thing with beets is you first have to boil them so you can peel the tough coat off before you use them in any way. I make one of my all-time fav foods, pickled beets, a taste I picked up from my late mother-in-law, with whom I bonded many years ago when she made some. I wish I had the forethought to get her recipe, and after doing some cookbook research without finding anything I liked, it's a recipe I cheat on. I simply boil and peel the beets, cut to a uniform size, and then throw into bowl a filled with sweet pickle juice from the jar of sweet gherkin pickles we get at the grocery; and let marinate at least two days. (Send me your sweet pickling recipe: tom@nehydro.com) and I'll give it a try, and you a shout out next post!)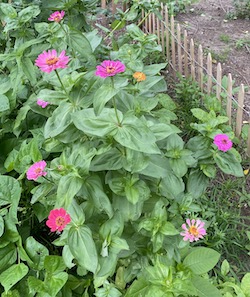 Last, but surely not least, are my Zinnias. A spectrum of gorgeous brilliant colors, they've inspired me to try my hand with more varieties next year! Mine were less than perfect geometrically, but my family enjoyed them every time I cut a bunch. "An imperfect flower from an imperfect gardener" I'd say. (But they love me anyway!)
But you know, in its grand design nature is perfect, no matter what I do. And this summer especially my garden, and even the #@%#*! bunnies have provided great comfort. I hope yours has comforted -- and provided -- for you, too.
Tom Lanen is a family man and principal of ThomasBoston.com, for whom indoor and outdoor gardening has become a passion and welcome diversion in these wild times. He posts regularly on the New England Hydroponics Facebook, Twitter and Instagram accounts – ask your questions on any of these streams, or find him weekday morning on Chat at nehydro.com, and he'll do what he can to answer!