And the "SOIL OF THE MONTH" is...... FoxFarm Happy Frog - Only $15
That's right folks......
The "SOIL OF THE MONTH" for October is FoxFarm Happy Frog!!!
Ocean Forest is a unique potting soil
Happy Frog potting soil is perfect for houseplants and container gardens inside and out, Fox Farm's Happy Frog Potting Soil creates an ideal root-zone environment and promotes phenomenal growth rates. This great organic mix contains composted forest humus, sphagnum peat, perlite, earthworm castings, bat guano, mycorrhizae and humic acids derived from leonardite. Oyster shells and dolomitic lime are also included to stabilize pH. Happy Frog Potting Soil is fine-screened, light in texture and ready to use right from the bag.
Get a 2 CF bag for only 15 bucks this month only! Come into either of our retail stores and pick yours up today. We have ordered full pallets into both stores to make sure we have plenty of stock. We are happy to ship them online too, but there is a $15 per bag "Heavy Shipping" charge. Get them while they last!
The FALL PARTY Raffle Has Begun!!!
Checkout the Raffle Table for the New England Hydroponics Fall Party. We currently have over $2000 in prizes and we keep adding more items as they arrive from our vendors. Everything on the table will be given away at 4 pm on Saturday, Oct. 4th. Stop in for your chance to win. We are giving out 1 ticket for every $100 you spend from now through the drawing. Also on the day of the event every guest will get a FREE ticket! — at New England Hydroponics - Metrowest -Route 9 - Framingham, Massachusetts.
New England Hydroponics Fall Party - Saturday, October 4th - Framingham
Fall Party October 4th, 2014!
Help us Celebrate our 1 Year Anniversary in Framingham!

Join us Saturday, Oct 4th from 10 to 4

There will be snacks, prize giveaways throughout the day, and a FREE raffle at 4pm to win over $2000 in products.

Mike Hsu and WAAF will be here from 2-4 with some great Prizes!!

Product Representatives will be on site to answer all your Gardening Questions.
Check out the Huge FREE Raffle Here!!!

See You on Saturday!!!
And the "SOIL OF THE MONTH" is...... FoxFarm Ocean Forest - Only $15
That's right folks......
The "SOIL OF THE MONTH" for September is FoxFarm Ocean Forest!!!
Ocean Forest is a unique potting soil that combines the best fertilizers found on land with the finest sea ingredients available. The result is a rich, light, organic potting soil that encourages healthy root growth and leafy foliage. Ocean Forest consists of rich composted forest humus, Sphagnum peat, bat guano, fish, crab, shrimp and Norwegian kelp meals, premium earthworm castings and oyster shells to ensure a balanced pH.
Get a 1.5 CF bag for only 15 bucks this month only! Come into either of our retail stores and pick yours up today. We have ordered full pallets into both stores to make sure we have plenty of stock. We are happy to ship them online too, but there is a $10 per bag "Heavy Shipping" charge. Get them while they last!
CANNA Authorized Dealer - Framingham Store
New England Hydroponics is proud to announce that we have just become the first CANNA Authorized Dealer in the Boston Metro Area. We now have CANNA products in stock at our Framingham, Massachusetts store and they are also available at neHydro.com for all of our online customers. We will NOT be selling CANNA products at our Southampton retail store at the current time. As always, we offer FREE Shipping in the Northeast on Orders over $100. So checkout the great selection of CANNA Nutrients & Media that we have in-stock and ready to go.
The Spring Party Raffle has Begun!!!
The Spring Party Raffle has Begun!!!
Drawing at our Spring Party
Saturday, March 29th, 2014 at 4pm
(Southampton, Mass Store ONLY)
Get 1 Ticket for every $100
spent March 22nd thru 29th
Free Ticket for Every Guest on Saturday, March 29th, 2014

Please write your First Name and Phone # or email address on each "Ticket". Keep the "Keep This Coupon" to claim your prize. You DO NOT need to be present to win.
We will contact all winners the week of March 31st.
All prizes must be claimed on or before April 12th.
New England Hydroponics Spring Party - Saturday, March 29th - Southampton
Spring Party March 29th, 2014!
Help us Celebrate the Arrival of Spring

We will be having a Customer Appreciation Day from 10am – 4pm
at our Southampton, MA Retail Store
Free Raffle (Over $1000 in Prizes)
Free Product Giveaways
Product Reps. / Free Samples
OMRI Listed Organics at neHydro
You may (or may not) have noticed the recent addition of an Organics (OMRI Listed) category on our website. So why should you care? For those growers looking to keep their crops organic, OMRI listing is the gold seal. Not all organic products are OMRI listed, but those that are listed have been tested extensively for contaminants and their production methods have been carefully scrutinized. The Organic Materials Review Institute (OMRI) is considered an authority on organic production, and is the first step toward becoming USDA Organic certified. Their goal, as stated on their website, "is to support the growth and trust of the global organic community through expert, independent and transparent verification of input materials, and through education and technical assistance." In simpler terms, OMRI Listed products are guaranteed to be high-quality, pure, and truly organic. So checkout the new Organics Category to easily locate all of our great OMRI listed products.
neHydro Retail Stores NOW OPEN 7 Days a Week!
New England Hydroponics's Boston MetroWest Retail Location on Route 9 in Framingham, MA and Western Mass Location on Route 10 in Southampton, MA are NOW OPEN 7 Days a Week! You asked for Sunday hours and we listened. Our new retail store hours for both locations are 10am to 6pm, Monday thru Saturday and 12noon to 5pm on Sunday. So come on in and check out our great selection any day of the week!
Sincerely,


Ethan Holmes
Store Owner
Holiday Hours at New England Hydroponics
The New England Hydroponics Retail Store and Warehouse hours will be changed on the following days:
Holiday Hours 2013
Dec. 24th - Open 10am to 4pm
Dec. 25th - Closed
Dec. 31st - Open 10am to 4pm
Jan.1st - Closed
Happy Holidays!!!

Maximum Yield's Talking Shop Features New England Hydroponics
The November 2013 issue of Maximum Yield features New England Hydroponics in the "Talking Shop" Section. With the recent opening of our NEW Framingham, MA retail store, we are honored to be featured in the Hydroponics Industry's most well known publication. Check out this great write up on pages 174 and 175 of the November 2013 issue or click the picture below to view it online. Thanks to everyone for you support!
Sincerely,


Ethan Holmes
Store Owner
Lower Prices on ALL Fox Farm Soils - $19.95 each
That's right, we are always trying to get better prices for our valued customers and now we have done it again! All our large bags of Fox Farm soils are now $19.95 per bag. This includes Ocean Forest, Happy Frog Organic, Light Warrior and the Original Planting Mix. What's more, when you buy 10+ Bags (Mix N' Match) the price drops to only $18.95 each. So come on in for some of the Best Prices around on some of the Best Soil available!
Posted by Ethan
The Grand Opening Celebration Raffle has Begun!!!
The Grand Opening Celebration Raffle has Begun!!!
Drawing at our Grand Opening Celebration Party
Saturday, September 28th at 4pm
(Framingham, Mass Store ONLY)

Get 1 Ticket for every $100
spent September 18th thru 28th

Free Ticket for Every Guest on Saturday, September 28th

Please write your First Name and Phone # or email address on each "Ticket". Keep the "Keep This Coupon" to claim your prize. You DO NOT need to be present to win.

We will contact all winners the week of September 30th.
All prizes must be claimed on or before October 12th.
New Store NOW OPEN on Route 9 in Framingham, Massachusetts
New England Hydroponics is proud to announce the opening of our second retail store. We are stocked and a ready to go. Our NEW retail store is just 20 miles west of Boston and easily accessible from the Mass Pike. We are open 10am to 6pm Monday thru Saturday. The store is located in Trolley Square at 855 Worcester Rd. (Rt. 9) Framingham, MA on the westbound side approximately midway between exits 12 and 13 from the Massachusetts Turnpike (I-90). If you have any questions just give us a call in Framingham at 508-405-2525. The new store is now open for business and the Grand Opening Celebration is scheduled for Saturday September 28th, 2013. So come on by and check it out!
Posted by Ethan
New Retail Location on Route 9 - Framingham, MA - Coming Soon!
That's right we will soon be opening a second location in Eastern Massachusetts. Love our store in Southampton, but don't want to make the long trip west? No problem, you can visit our NEW retail store just 20 miles west of Boston and easily accessible from the Mass Pike. With over 4400sf of space, we will have all the great products that you have come to expect from New England Hydroponics. The store is located in Trolley Square at 855 Worcester Rd. (Rt. 9) Framingham, MA on the westbound side approximately midway between exits 12 and 13 from the Massachusetts Turnpike (Rt. 90). We are not open yet, but we will be soon. Our expected opening date is September 3rd, 2013 with a Grand Opening celebration to follow later in September. We will keep you posted as the dates become finalized. Hope to see all of Eastern New England customers in Framingham soon!
Sincerely,


Ethan Holmes
Store Owner
Tax Free Weekend Sale - August 16th and 17th, 2014
Tax Free Weekend Sale - August 16th and 17th, 2013
This Weekend, New England Hydroponics will be observing the annual Massachusetts Sales Tax Free Weekend!
There will be NO Massachusetts Sales Tax (6.25%) on everything we sell for this weekend ONLY!
So, make sure to come in to one of our Retail Stores for Big Savings!
-- Southampton, MA on Saturday, August 16th from 10am to 6pm --
-- Framingham, MA on Saturday, August 16th from 10am to 6pm and Sunday, August 17th from 12 to 5pm --
Shop Online all weekend long (Saturday and Sunday) at neHydro.com to save on Sales Tax!
Aptus Plant Tech Grower Education Class on July 16th, 2013
That's right New England Hydroponics now has the Full Line of Aptus Plant Tech products in-stock and ready to go! Stop by the store or browse online to find these great new items. But it get's even better, Aptus will be at our retail store in Southampton, MA to host a FREE Grower Education Class on Tuesday, July 16th, 2013 from 4pm - 6pm. So come on by and learn all about plant nutrition from the Pros.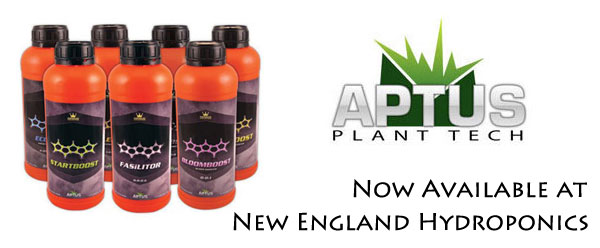 Posted by Ethan
Spring Cleaning Sale at neHydro.com
Spring has arrived and we are cleaning house at New England Hydroponics with our Spring Cleaning Sale. We have just added over 50 items to the Discount Rack to make way for New Products. These are items that we have discontinued from the store, so they are all at least 25% OFF MSRP and supplies are limited. So check out all the great new deals and save some serious money too!
Posted by Ethan
New England Hydroponics Spring Party - Saturday, March 23rd
Spring Party March 23rd, 2013!
Help us Celebrate our Recent Expansion and the Arrival of Spring.
We will be having a Customer Appreciation Day from 10am – 6pm.
Free Raffle (Over $1000 in Prizes)
Free Product Giveaways
Product Reps. / Free Samples
Posted by Ethan

House and Garden Nutrients Have Arrived at neHydro
That's right, you asked for it and we got it! We now have the Full Line of House & Garden Premium Dutch Nutrients in-stock at New England Hydroponics. From Aqua Flakes, Cocos and Soil Bases to Roots Excelurator and Amino Treatment, we have got it all! So come check out the New House and Garden Display at the Retail Store in Southampton, or order online at neHydro.com and we will ship it out right away!
Posted by Ethan
New England Hydroponics is Growing!
That's right, we are Growing!!! Our retail store in Western Mass will soon be even bigger. We are adding a whole new section devoted to an expanded selection of soil, amendments, organic fertilizers and outdoor gardening supplies. The new Soil & Organics section will be ready for business starting March 1st. With 4,000sf of Retail Space and an additional 4,000sf Warehouse, we have the Largest Inventory of Hydroponics and Indoor Gardening Supplies in New England. So come visit our retail shop in Southampton, Massachusetts and check out the great selection.
Posted by Ethan
The BloomBoss FUSION Series has Arrived at neHydro.com
We are proud to announce the arrival of the newest member of the BloomBoss family of Enhanced Spectrum LED Grow Lights. The BloomBoss FUSION Series has arrived!
The FUSION series marks a major advancement in the evolution of LED Grow Lights. Finally, a true replacement for your HPS grow lights that produces very little heat and consumes only half the power. The BloomBoss FUSION 600 effectively replaces a conventional 600 watt HPS Grow Light while only consuming 300 watts of power. The FUSION combines an optimal blend of traditional 6500K and 2900K white light, with the intensity of 440nm, 470nm, 630nm & 660nm Blue and Red LED chips that blow away the competition. The FUSION offers the perfect color blend between the HID lights of the past and the LED lights of the future.
What's more, the FUSION Series LED lights offer Dual Light Spectrums to provide the best of both worlds for vegetative growth and the flowering stage. The Grow setting uses only 150 watts to provide excellent vegetative growth in a 4' x 4' area. Simply turn on the second switch to boost the light to full capacity and modify the spectrum to encourage unbelievable flowering in the same 4' x 4' space.
The BloomBoss FUSION 400 offers all the same features as the FUSION 600 while effectively replacing a conventional 400 watt HPS Grow Light with only 200 watts of power and covering a 3' x 3' area.
The time has come to say goodbye to the HPS and MH lights of the past. The BloomBoss FUSION revolution has begun!!!
New England Hydroponics Retail Store Now Open Monday's
STARTING MONDAY SEPTEMBER 10th WE WILL NOW BE OPEN 6 DAYS A WEEK.
OUR NEW RETAIL STORE HOURS WILL BE MONDAY THROUGH SATURDAY 10am- 6pm EST.
Expanded FREE Shipping in the Northeast USA !!!
New England Hydroponics is proud to announce Expanded Free Shipping in the Northeast, USA. We now offer Free 2 Day Shipping on all orders over $100 to the following states: Connecticut, District of Columbia, Delaware, Massachusetts, Maryland, Maine, New Hampshire, New Jersey, New York, Ohio, Pennsylvania, Rhode Island, Virginia, Vermont & West Virginia. All items will ship via UPS Ground which guarantees transit times of 1 or 2 days to all of the listed locations. Please see the map below:

All areas in the 1 and 2 day zones now qualify for Free Shipping at the $100 level. All other zones in the continental USA will continue to qualify for Free Shipping on orders over $250 excluding AK, HI and PR. Shipping transit times start when the package leaves our warehouse. All orders ship within 2 Business Days.

Sincerely,


Ethan Holmes
Store Owner
Soil Selection Guide
As our inventory of soil and soil-less media grows, it gets even more confusing to the average grower as to which one to choose, so I have decided to add a brief description of each one, along with some recommendations for the use of each. Follow the links to read the full descriptions. I hope this helps make choosing the right dirt easier for all of you.
Let's start with a list of basic Plant Growth Stages: seedling and newly-rooted cuttings, early vegetative, mature vegetative, and fruiting/flowering. At each stage in a plant's life, certain soil and fertility conditions must be met, or avoided, to ensure healthy growth. If the media is inert (contains no nutrients), the plant suffers from nutrient deficiencies, and if it is too hot (contains more soluble nutrients than a plant can handle), it suffers from luxury consumption and shows stress in the form of burning or leaf-curling, among other signs.
NOTE: Not all Soil Mixes are Available Online
The following is a list of recommended soils for each growth phase:
Seedlings and Newly-rooted Cuttings
FoxFarm Light Warrior - A super light mix blended to encourage robust root systems. High air to water ratio.
FoxFarm Ocean Forest - A complete mix of organic ammendments blended with peat and perlite. Excellent air to water ratio when saturated.
Vital Earth Manna Mix - A complete mix of organic ammendments blended with coco fibers, perlite, and pumice stone for aeration. Medium air to water ratio.
Pro-Mix HP and BX with BioFungicide - Peat-based mixes containing perlite, wetting agents and mycorrhizal fungus. BX contains baccillus bacteria. Low air to water ratio.
Pure Earth Indoor Aeration Formula - coco and perlite blend, very high air to water ratio. Contains poultry manure for plant health.
B'cuzz Hydro-Mix - Peat-based mix containg perlite,low amounts of starter nutrients, wetting agents and pH buffers. Low air-to water ratio.
Sunshine #4 - Similar to HydroMix
Sushine Advanced #4 - Same as Sunshine #4, but adds mycorrhizal fungus, coco fiber and an organic wetting agent. Low air to water ratio.
Black Gold Potting Soil - Peat based. Contains worm castings, pumice and perlite. medium air to water ratio.
If using Pro-Mix, Sunshine Mix, Black Gold or B'cuzz HydroMix, additional nutrients must be used one week AFTER the first set of true leaves develop on seedlings. If using rooted clones, additional nutrients must be added prior to planting or shortly after. FoxFarm Light Warrior usually contains enough nutrients to sustain healthy growth for up to two weeks, and Ocean Forest, Pure Earth, and Manna Mix support growth for up to a month. It takes experience to learn exactly when nutrients should be applied, as you are trying to stay between the lines of not enough and too much.
Early Vegetative Through Fruiting/Flowering
FoxFarm Ocean Forest - see above.
FoxFarm Happy Frog - Coco and peat based mix containing more nutrients than Ocean Forest, plus mycorrhizal fungus and pH buffers. Low air to water ratio.
Vital Earth Manna Mix - see above.
Just Right X-tra - A complete mix, very high nutritional content. Contains beneficial bacteria, mycorrhizal fungus, bone char, worm castings and more. High phosphate content. High air to water ratio.
All of the mixes appropriate for the seedling/cutting stage may be utilized throughout the plants entire life, but will need to be ammended with additional nutrients, whether it be a top-dressing of powdered or granular fertilizers, or through a regimen of using liquid, water-soluble fertilizers every other watering or so. It is up to you to choose which method is appropriate for your specific grow.
Air to Water Ratio? What Does That Mean to Me?
This ratio represents the water holding capacity of a given mix. The higher the air to water ratio, the less moisture the media holds, and the more often you will need to irrigate. It also means roots don't have to try so hard to break up the soil to expand, so, typically, the higher the ratio, the easier it is to get a BIG root system. Every mix has it's advantages and disadvantages. Low air to water ratio is not a bad thing in the right situation. If you are having problems with plants drying out too quickly, for instance, you should use a medium that holds more water. Outdoors a low air to water ratio can be advantageous if your growing season is hot and dry.
posted by kevin

New pH Perfect Base Nutes from Advanced Nutrients
We are excited to bring you the new pH Perfect line of base nutrients from Advanced Nutrients. With this new system, measuring, monitoring and adjusting your nutrient pH levels is a thing of the past. Included in each nutrient bottle are acid and alkaline buffers, to keep your pH in the sweet spot regardless of supplements and additives.
Advanced has introduced the Sensi line, their 3-part mineral line and the Connoiseur line, in pH Perfect. Again, with these base nutrients, you do not need to adjust your pH, at all, ever.
pH perfect represents a huge advancement in hydroponic nutrients.
posted by Kevin
Options.... Variety is the Spice of Life
...Some wise man said it, and I tend to agree. That's why we are not content selling one nutrient line, one brand of dirt, or a single HPS bulb. We are not product pushers, we will never try to put you on to something just to see it moving from our shelves. Our approach is more along the lines of sitting back and letting our customers tell US what they want. Sure, we've got opinions, and share them freely. We've also got experience with the vast majority of our products, so we can tell you what to expect from whatever new toy you decide to bring home.
That guy loves Advanced Nutrients, so we carry Advanced Nutrients. The guy over there had great luck with Sugar Peak, so we brought in Sugar Peak. A whole bunch of people requested a better way to utilize their t5 lights, so we brought in the nanotech t5 reflector, you get the idea. We never know what's going to sell and what's going to collect dust, so we found a simple remedy: Carry as many different products as we can fit.
posted by Kevin
Thank You for Attending!
Well, the title pretty much sums it up. Our first free gardening seminar went great, hopefully you guys thought so too. We're just getting the ball rolling on this whole class thing, so stay posted for the date for the next. I believe the topic will be "An introduction to Hydroponics", but customer requests for a different topic will certainly be considered.
posted by kevin
neHydro Now Offering Free Gardening Classes!
Over the years, we have received a lot of requests from our customers to offer a more hands-on educational experience in our retail store. We are always willing to help with any questions you have, but sometimes we are simply too busy to cover all the information you are looking for. That being said, we are pleased to announce our new series of educational seminars, being held on certain Wednesday nights, after our normal store hours.
Our first class will be held Wednesday, May 2nd at 6:00 p.m. The class topic will be Propagation. We will cover the supplies needed to start a successful garden from seed, then discuss how to turn that prized plant into an army of genetic equals through the magic of stem-cutting.
The presentation will be short and concise, to allow for plenty of time afterward to field questions from attendees. We will be offering discounted seed-starting packages to all who attend, as well as free refreshments.
You need not sign up for this class, however, if you'd like to pop in to the store, or shoot us an email or phone call to let us know you will be attending, please feel free to do so.
Future class schedules will be posted here on our blog, as well as in our store, so be sure to check back often to keep up-to-date. We have always been dedicated to your gardening success, and these classes are just another way to show our customers how much we appreciate them. Hope to see you there!
posted by kevin
New England Hydroponics - New Retail Store Video!!!
Have you seen our new retail store in Southampton, Mass? If not, here is your chance!!! Check it out online with our new Hydroponics Store Video. Take a glimpse at all of the great products and displays. We have tons of new items in-stock and lots of indoor gardens up and working. Enjoy the show!!!
Posted by Ethan
Our New Retail Store
Thank you to all who attended our Grand Opening last month, it was a blast, and we were extremely pleased with the turnout. Since then, we have been very busy coming up with ideas to make our new store the best around. We have brought in a bunch of new products, like tomato barrel and tomato trellis planters, new sizes of heat mats, several different soils from names like Black Gold, Sunshine, and B'cuzz, new hydroponic systems, Lite-Tite zipper doors, new styles and sizes of filters, a new line of digital ballasts, the list goes on. In addition to all of our new products, we have set up several new displays in our showroom. We've got two fully-functioning tent set-ups, several different hydro systems, tons of different grow lights, and some really cool plants. We have added a retail plant table, covered in culinary herbs, orchids, coleus and others, and as always, our famous discount rack.
Come on in and get to know us, we already know your garden!
posted by kevin
Grand Opening Scheduled For February 4th, 2012!
If you live in the area, be sure to stop in to our New, Bigger, Better Location at the other end of the Red Rock Shops in Southampton, Mass. Our NEW location is more than twice the size of our old store. We now have additional items and setups on display and well over 1000 products in-stock and ready to go!
Our Grand Opening event is on Saturday, February 4th between the hours of 10am and 6pm. We will be raffling over $1000 in prizes, including a Secret Garden Darkroom II PRO 120, a BloomBoss 300 watt LED Grow Light, a Quantum Bad Boy T5 High Output 4' x 4 Fluorescent Light and more! In addition to the free raffle, there will be snacks and drinks and we will be handing out lots of free goodies, like t-shirts, nutrients and gardening accessories. It's going to be a good time for all and we look forward to seeing you there. So come on by and check out our New Store and you could leave with some great FREE Hydroponics Gear!
Sincerely,


Ethan Holmes
Store Owner
Big Things Are Coming...
That's right! Big things are coming here at neHydro! We are currently working on setting up a new retail store, in the same plaza as our existing store, to better serve the needs of our valued customers. Our new store will be double the size of our existing store. In addition to a whole lot more space, our new store will feature many new product displays, including functioning grow tent set-ups showcasing our favorite HID lights, LEDs, hydroponic systems, fans, filters and environmental controllers. We will also have an onsite diagnostic center where we can test bulbs, ballasts, pumps and fans much quicker and efficiently than before. Our new growroom design center will be a place where we can sit down with our customers and build indoor gardens from the ground up.
We are working hard to be your one-stop growshop, and our expansion proves that serving our customers with the best products and best service is still our number one priority.
Stay tuned!!! We will be announcing our Grand Re-Opening as we get closer to the move. We are all very excited, I hope you are too.
Special Deals on Our Discount Rack!
In preparation of the holiday season, we have added many new items to our Hydroponics Discount Rack. Be sure to check it out to score great deals on items that we have overstocked, discontinued or that we feel you just can't grow without. We've added bulbs, nutrients, ballasts, greenhouse controllers, CO2 equipment, pumps, accessories and more. Supplies are limited on all Discount Rack items, so don't wait until they're gone!!!
neHydro Announces the Arrival of Advanced Nutrients!
We are excited to announce the arrival of Advanced Nutrients to our online and retail store. Bringing our customers the best selection of Hydroponics Supplies at the best prices has been our main goal since day one, and the addition of this superior line of plant nutrients for hydroponics and soil is right on track! Whether you are just starting out, or have hundreds of grows under your belt, you are sure to find a feeding regimen under Advanced Nutrients that will suit your needs. From a simple 2-part SensiBloom & SensiGrow Fertilizer program to the advanced Connoiseur multi-part expert program, Advanced Nutrients offers a wide range of top quality plant nutrients, vitamins, beneficials and stimulators. As always, we value your business and hope that you find just what you need!
Posted by Kevin
No Need To Be Overwhelmed!!!
New England Hydroponics understands how confusing designing, building and maintaining an indoor garden can be. With over a thousand products in our inventory, it can often be difficult and overwhelming to decide exactly what you will need to get the most from your grow. That's where we come in.
During our normal business hours, there is always someone available to speak with you directly, ready and willing to help make those difficult decisions easier. We know our products. We use our products. We stand behind our products.
Maybe you need help selecting a grow media, maybe lighting gets confusing. Perhaps you are well in to the grow and your leaves are mottling and growth has slowed. We're not just gear heads, we understand plants and what they need to thrive, in addition to our vast knowledge of all things tech-related. Really guys, we want to help. The relationship we have with our customers doesn't end after the sale. In fact, that's where it begins.
I've said it before, and I'll say it again. Call us. Please. The last thing we want is to have our valued customers shooting into the dark to decide what they need, only to find out the products they have purchased don't fit their needs. Sure, returns with us are painless, but why go through the hassle when a quick phone call could ensure you get it right, the first time.
Don't be overwhelmed, just take the process one step at a time, with the first, and most important step being educating yourself. Read, read more, ask questions, read more, forget most of it, then give us a shout. Let's grow something together.
Posted by Kevin
New England Hydroponics featured in BusinessWest Journal
New England Hydroponics was recently featured as one of three businesses in an article entitled "Doing Business in: Southampton" in the October 14th 2011 edition of the BusinessWest news publication.
You can check out the whole article online at BusinessWest.com
Posted by Ethan
neHydro's Ever-Expanding Inventory
I wanted to take a quick minute to let all of our customers know that our commitment to excellence doesn't just end with our customer service. We are constantly on the lookout for new products to add to our ever-growing inventory, with new items being added every week. We take our customer requests seriously, if we don't have it, we will try our hardest to get it. If the requested item is something we think you all will benefit from, it gets added to our shelves.
Our home page features all of our newest items, to make browsing for this stuff much easier. Be sure to check in periodically to stay on top of this rapidly expanding industry, and to get the best deals.
Every month we feature Monthly Specials, some of which are exciting new products, some may be items we have overstocked, others may be older products that deserve a second look.
Did you know that every month we e-mail money-saving coupons to all of our customers who have created an account with us? If you haven't, you are missing out! Go ahead and sign up, it's free, fast and easy!
Posted by Kevin
Fall is Right Around the Corner...
With the summers' heat behind us, it's time to start planning that new indoor garden. This is the perfect time of year to get set-up. Temperatures are easier to control, humidity is much more manageable, and the days are getting shorter, prompting us to find new hobbies to occupy our time during the long, dark winter months. Let's face it: unless we've got our own indoor garden, our produce is coming from the grocery store.
The joy of eating snow peas while snow is on the ground, snipping cilantro for homemade pico-de-gallo on Christmas Eve, or crusting the outside of that big juicy Thanksgiving bird with fresh thyme and rosemary, is unbeatable. There is something so soothing in the fact that you get to say "I grew this". It really is empowering.
Maybe you already have an indoor garden? Now is the time to test your equipment, replace your tired old bulbs with new ones, refresh your fertilizers, maybe upgrade to that quiet digital ballast you've been pining over, or that environmental controller that keeps your temps and humidity in check without all the headaches you experienced last winter. It's time to calibrate your meters, clean the glass on those reflectors, blow out your ducting and sterilize the room. It is much easier to get everything dialed in BEFORE plants are growing, your plants will thank you for getting their environment perfect prior to germinating your seeds, rather than waiting to see signs of stress before making the necessary changes.
There are a lot of decisions to be made, and special considerations must be taken to be sure your garden is going to work for you. How much room do you have to dedicate to the garden? How much time will you be able to devote to it? Where will it be located, somewhere warm? Somewhere cold? Will there be access to fresh air, or will you need supplemental CO2? What type of lighting will you need, and how much? Are you going to benefit from the added warmth of HID's, or the lack of heat that is available with LED's? Maybe fluorescent lights will suit you if your garden falls in between...
What are you going to grow, and how do you plan to grow it? Soil? Hydro? Maybe a little of both? The more time spent planning is going to equal less time spent making changes and more time enjoying your new garden.
New England Hydroponics not only supplies gardeners with all the gear they need, but we also have the knowledge and experience to make sure they get the most out their gardens. Feel free to give us a call or shoot us an email, getting started can be an involved and intimidating process, we understand this. That's why we are here to help.
-posted by kevin
Have You Visited Our Retail Store Yet?
New England Hydroponics welcomes you to come in and check out our retail store on Route 10, in Southampton, Massachusetts. In addition to the huge inventory of items on our website, our store features many hydroponic systems, soil plants, lighting, grow tents, and more on display for you to see in action. Not sure what system is right for you? No problem. Our experienced staff is always available to help with setting up your garden right, the first time. We don't just sell products, we are here t
o make sure you bring home just what you need and nothing you don't.
Do you have questions about which inline ventilation fan is the quietest, which bulb is the brightest, or which hydroponic nutrient is right for you? How about proper pH and PPM levels? Do you want to know the advantages and disadvantages of coco coir- versus peat-based soils? Come on in and we will do our best to answer all of your questions and help trouble-shoot any problems that may occur with your plants or equipment.
If you live in the Northeast, stop on in, I think you'll find the trip to be enjoyable and enlightening.
Posted by Kevin

Cyco Nutrients Tomato Grow Conclusion
So, it's been a couple of months now, and our first CYCO Flower Nutrients tomato grow is nearing completion. The plants have each yielded a bunch of nice, healthy red tomatoes, and still have dozens more green ones that should ripen up by the end of next week. The crazy upward growth has slowed down significantly, and I can stop snapping suckers off on a near-daily basis.
It has been a chore to keep the height of these plants down, but it made the store smell great and kept our worms happy. I was pruning off five to fifteen pounds of vegetation weekly, I can't imagine how huge these plants would be if I just let them grow.
Throughout this grow, I had been changing the res weekly, adding full-strength nutes and adjusting the pH. When I switched to the bloom formula, I noticed I no longer needed to adjust the pH, as the nutrients dropped my water right down to perfect. I haven't touched a pH pen in five weeks.
I am impressed with the line of CYCO Flower Nutrients. My res is super clean, my plants are super healthy, and the system maintenance was a dream. I initially thought that I wasn't going to like mixing all those nutrients together every week, but for the return, the input was totally worth it. I have always stood by one-part and two-part nutrients, but I really don't think the results I yielded with CYCO could have been matched by a universal formula.
As an introduction to CYCO nutrients, we are offering a complete Cyco Platinum Starter Kit. It comes with 32 ounce bottles of their ten bases, and 100 mL of CYCO XL, their ultimate bloom booster. The bottles in the kit are color coded to a corresponding feed chart, making it pretty hard to mix it up wrong. Really guys, it's a very easy schedule that helps beginners grow like the pros. Go ahead, try it out. I'm a believer...
Posted by Kevin
Cyco Nutrients Grow Diary Update
Hey guys, Kevin here with an update on our first Cyco Nutrient Tomato grow...
It's been a little over three months, and our plants are going crazy. On 5 plants, there are about 50 little green tomatoes forming, and at least twice that many flowers yet to open. The plants are 4 ½ feet tall and some of the stalks are three inches in diameter. I had to hang a horizontal pole from the ceiling to tie the plants up to, as they started to sag under the weight of all our little fruits.
The leaves and stalks of each plant are incredibly resilient, probably due to the large amount of silica in the regime. Lush is probably the best word to describe this grow. There have been no hiccups, no deficiencies, no pests. The plants have kept a very steady pace during the generative phase, and as reproduction comes underway, there is little sign of them slowing down.
I do believe that something in the mix is keeping internodal spacing relatively short, as these plants were vegged under a 600 watt HPS light. Normally tomatoes can tend to be a little leggy; healthy, but leggy, under HPS lighting. It could be the nutes, it could be the particular cultivar, I'm not sure yet. I'll probably try a different type next time to see if the results are the same.
There is a small bunch of Brown-Eyed Susans in the AeroFlo with the tomatoes, overflow from an ebb and flood system, that are looking great as well. They did stretch a bit, but it was due to the larger plants shading them out. I was a little concerned that I would fry the delicate plants by feeding them the same schedule that the much larger, heartier plants were being given, but even at 1600 ppm, they haven't so much as lost a single leaf.
Cyco nutrients have earned the neHydro Seal of Approval, an accolade that certainly doesn't get handed out to just any bottle.
Posted by Kevin
Complete HID Lighting Systems – New Options Available
We are pleased to announce a recent addition to our new website. We now offer our Complete HID Light Systems in the Indoor Lighting category of our website with many New Options. You can choose the brand and the wattage of the light package from the available products. All lights are offered with a Ballast of your choice, a Plantmax HPS Bulb and either a standard open CAP LumeWing Reflector or a sealed Air-Cooled CAP LumenAire 6 Reflector. Once you have selected a light kit, you will be able to make changes and upgrades on the individual product page by picking from the options that are listed. The new options are shown below the price and they include the following choices: upgrading the HPS Bulb that is included with the light kit, adding an MH Bulb, adding a Timer and adding a Hanging Kit. For every change that is made in the options, the price on the page will update to show the total package price. We hope this new change will make it easier for our customers to choose just the right light kit for their specific needs. Remember, all of our Complete HID Light Kits are price $20 less than buying the individual components, so this is a great way to save a little money while buying your new Grow Light.
Check out all of the new Complete HID Light Kits on neHydro.com
Posted by Ethan

Announcing the Arrival of the CYCO Line of Nutrients!
Hi guys! This is Kevin from neHydro.com, and I'm writing today to inform our customers how excited we are to announce the arrival of the new CYCO line of nutrients!
To start, I'd like to let you all know that I've been involved in indoor gardening, in soil and hydroponics, for over fifteen years. I've seen a lot of products come and go, and being involved in the industry, I've had the opportunity to use just about every nutrient available. No matter how many new nutrient lines come out, no matter how many claims of "Bigger, Stronger, Faster" they promise, I always find myself falling back on my tried-and-true nutrient line.
It takes a lot to turn my head.
One of our suppliers sent us a sample case of a new nutrient line from Australia called CYCO nutrients. The box it came in was more akin to something an expensive pair of designer shoes might be purchased in, far from the usual brown box with a stick-on label. Never judging a book by its' cover, I have to admit I wasn't immediately impressed. I spoke with a representative for said supplier, and he said "Dude, this stuff is AWESOME." He went on to explain an experiment at his office that involved a secretary who couldn't keep a spider-plant alive, a hydroponic system, a measuring cup, and a shiny new box of CYCO nutrients. Three months later, after never having adjusted pH, never fully draining the reservoir, and topping off with full-strength nutes when needed, her garden was taking names...
OK, I'm listening.
We have an AeroFlo 20 Site hydroponics system set up in our store, and being the dreary New England winter, I decided to add some color to the store by growing Lupines. "What nutrients will I use this time?" I thought to myself. Oh yeah, that's right, I've got that big box of new stuff from Down Under. I'll give it a whirl, my skepticism aside.
2 months later, I was proudly showing off an incredible display of the most beautiful, thickest, strongest flower spikes I have ever seen!
So we come to the present. I was so impressed by the quality of flowers I had produced that I was sure I would use these nutrients again. I dug into the seed stash, and found some Large Red Tomato seeds purchased from the Shaker village in the north-western part of the state. I sprouted the seeds in Rapid-Rooters (always Rapid-Rooters), and put the five strongest plants into the Aeroflo hydroponic system. Mixing in my nutes at full strength, (which, by the way, is 1000 ppm for week 1!!!) I was off and running. I left for the weekend, and while approaching the storefront on Tuesday morning, I could already see the plants grew to over 7 inches tall in less than 3 days!
These plants were planted on February 19th, and yesterday (April 28th) I gave them the first dose of "Bloom A and B". The plants are 28 inches tall, with stalks half the size of my wrist.
If just one observation could be made of the quality and health of these plants grown with this nutrient-line, I would have to point out that the cotyledons, the seed-leaves, ARE STILL GREEN!!!! 2 Months old and these guys haven't even considered yellowing or falling off. The CYCO nutrients are providing everything that the plant needs, with no burning, no deficiencies, and almost no maintenance.
I am using tap water as my source water, changing the res every two weeks, adjusting the pH to 5.8 (manufacturer recommended) and topping off with fresh water as needed. There is virtually no salt build-up, the reservoir is as clear as weak filtered tea, and the tomatoes are growing like there's no tomorrow.
I'm sold. This line works like a dream.
I posted 2 photos of this grow so you can see for yourself. You don't have to take my word for it, but you probably should.
Posted by Kevin
Welcome to the ALL NEW neHydro.com Online Store!
Welcome to our new online store. We have upgraded our website to better serve our customers. The new website has many improved features to make browsing and shopping both easier and more informative. Since the site is now on a new platform and old accounts have not been migrated from the old system, current customers will be able to create a new account at checkout. The new site will also let customers have the option to checkout as guests without creating an account. We will continue to make changes to the site and to implement new features. Please send a message if you have any comments about the new design or if you find any errors or problems that you would like to bring to our attention.
Sincerely,


Ethan Holmes
Store Owner
New England Hydroponics featured in the Daily Hampshire Gazette
New England Hydroponics was recently featured in an article entitled "Hydro honchos: Local businesses cater to water-based gardeners" in the December 20th 2010 edition of the Daily Hampshire Gazette.
You can check out the whole article online at GazetteNet.com

Posted by Ethan