I said it before, and I'll say it again: what an amazing learning experience it's been to start and maintain a small garden! I'm also reminded of the old maxim: if you want learn more, fail more often, and faster. Under this definition, I learned a ton.
Not that my garden has been a failure: to the contrary, it's provided me with an ongoing supply of string beans, snow peas, beets, and now tomatoes. In fact, I'd put so many tomatoes in the fridge the veggie bin was overflowing, so last might I made a batch of fresh raw tomato sauce my twin sons have designs on to make (read: experiment with making) some pasta sauce! To which I can only say: good luck with that – their mother is of Italian heritage and makes the best sauce I've ever tasted.
But at the top of the list of my learning: you must thin out your plants or else they crowd out each other and produce very small fruits. This is especially true with string beans, which become huge and take over gardens, and beets, which need the in-ground space (at almost the surface) to expand horizontally as well as into the ground.
Perhaps tied with thinning out: not planting so much to begin with. I jumped into this in April as an indoor gardener, with hopes I could transfer my indoor skill set to outdoors. Yet in my enthusiasm, and perhaps with the sense of near panic we all felt at the onset of this plague, I ignored what I know: it's not how much you grow, but the quality you grow.
And tied with both: you've got to stay ahead of the weeds; it cannot be a passive task. The good news is there's too I've never seen for that: a box-end hoe. My pal has a "Hula Hoe" and it's just so easy to use. I need one badly.
What Worked. And Not So Much.
So much has happened this summer I had to go back to my original list of what I planted to do a tally. There are some things I'd never try again in a small garden – which I've crossed out. I've also commented on all others, including what I've learned.
Final Tally: What I Planted (and What I Learned)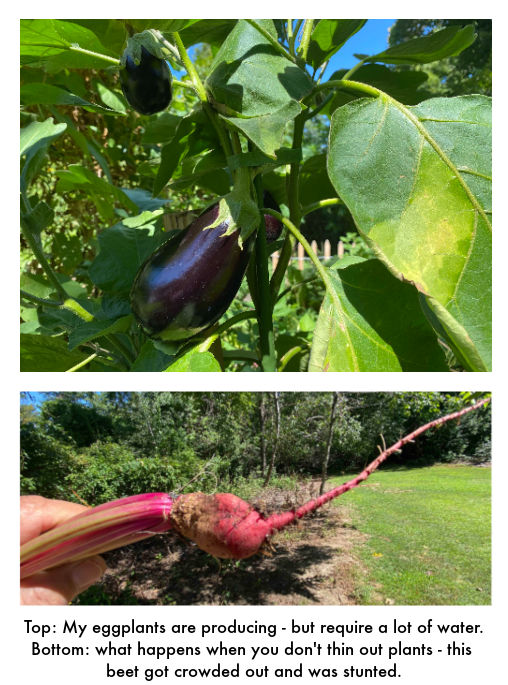 • Beets – excellent crop; learned you have to peel beets after you cook them; I then throw them into whatever sweet pickle juice we have in the fridge – and it works!
• Cucumbers – I discover we don't eat as many cucumbers as I thought – but I have a great recipe from my mother for a lightly sweet refrigerated pickle that's perfect for burgers and sandwiches; I may throw in some beets too! (See recipe at the end of this post.)
• String Beans – my most prolific veggie; must thin out plants – they become large and take over. See Tom's Spicy Garlic String Beans recipe in Part 4 of this series.
• Sweet Peppers (Red, Yellow, Green - 2 starts) – produced about a half dozen so far; great with Sausage Guy™ sausages I cook out on the grill. (I'm really missing Fenway Park this summer. Even if the Sox are ah, struggling a bit!)
• Broccoli – discovered they are more a spring and fall veggie; I tore out most of the seeded plants that were just stretching all over; but just today saw my first broccoli flower developing
• Snow Peas – out of control; must harvest daily, but delicious. See Tom's Simple & Tasty Snow Pea Pods & Beef, Chicken or Pork recipe in Part 4 of this series.
• Spinach – Early and late – a cold weather crop. I'm reminded to put in another round of seeds as soon as I get a box-end hoe.
• Mescal Salad Mix Lettuce – great crop, until the bunnies got it. Wire mesh fence next year (or maybe now).
• Romaine – same as Mescal Mix; very tasty. Going to plant a new crop now – once I get a bunny fence.
• Onions – My planting failed; my pal gave me some Egyptian Onions (also known as top onions) bulbs for next year.
• Parsley – see Sitto (Grandmother) Lila's Tabbouleh, in the 4th part of this series. Nothing like fresh parsley!
• Strawberries – planted too late. I'm going to look into what it needs to survive the winter and will get into ground early.
• Tomato (1 plant start) – ended up with two starts; big output. Need to put more time into; to train better using stakes to support all fruit-bearing branches.
• Flowers: Morning Glory, Zinnias, Sun Flowers – The deer ate my sunflowers, but my Zinnias produced a brilliant array of colors; and the violet color of some of my Morning Glories is breath-taking (see mast head image). Next year many more flowers – with deer repellent applied early.
• Butternut & Summer Squash(on opposite side of house to reduce exposure to powdery mildew). Never had a chance – they didn't get enough attention and needed more sun. Still growing with flowers but that's all I expect. Next year I'll re-evaluate; may skip if I can't find a better spot for them.
I also picked up a few plants starts after my initial planting:
• Cantaloupe & Watermelon – both require a lot of water – and room. Mine failed.
What I Will Do Differently Next Season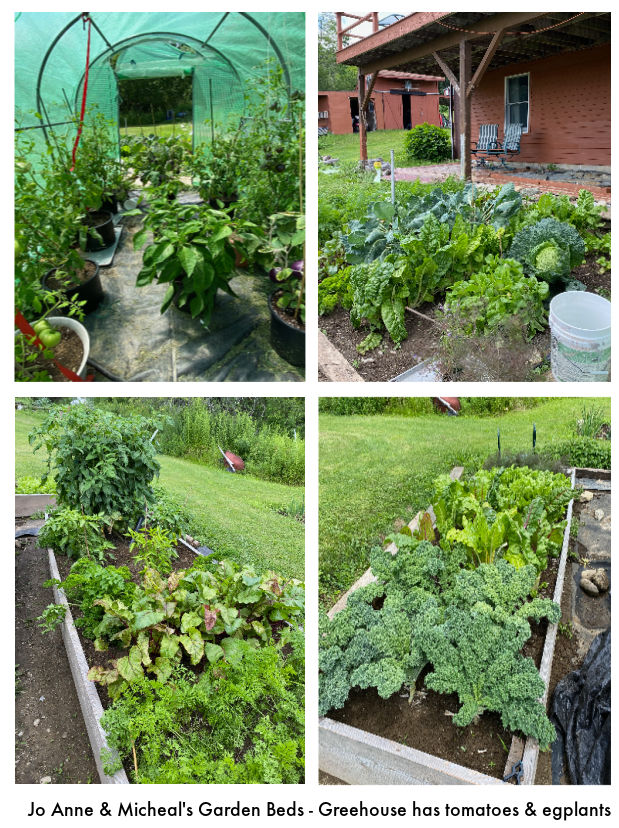 I'm a little surprised how rapidly my cute and neat little garden fell into overgrown disarray. It all looked so organized at the onset, and it was.
The problem in a nutshell: I tried to do too much with the limited space I have. And fact is, I had no real vision about what would take place throughout the growing season nor any sense of what the mature plants in my garden would need for best output. And my weeding effort was dismal.
My friends in Western MA, Jo Anne & Michael, have acreage they've farmed for family consumption for many years, and they have it down. The big difference between their gardens and mine is their organization. And their hard work.
Turns out gardening is not unlike the brand marketing and even the sailing I've done: success is all in the detail. In that detail comes quality, and in fact, better yield: plants can grow fully and achieve their full genetic potential. And my dad's #1 maxim, "if you're going to do something, do it like you mean it," indeed applies to this hobby as it does to any profession.
Foremost in Jo & Mike's garden is how they've structured them. It started with the wood they used for their raised beds: rough-hewn and of substantial heft, it defined and gave a sense of permanence to each bed.
I'm also going to study my photos (shown here) over the winter to better understand their plant mix, which seem to have complementary sizes and harvest times, enabling each plant to reach maturity in a spot with sufficient space.
And fact is, they have both spent the summer of this plague at home, which enabled them to put in the work on their gardens needed to do it like you mean it. Jo in particular is one of those relentless hard workers; I admire her work ethic and commitment both to garden and family.
One thing about which I'm certain: the flowers I grew brought me as much joy as my veggies. I'm going to plant more varieties next season – and perhaps even open some small flower beds around my property. Their beauty has seduced me; the sense of well-being they exude has become palatable, healing my spirit and bringing me joy. Even just thinking of the bright colors of my Zinnias and my Morning Glories as I write brings a sense of delight and adds depth to my quality of life. They surely have been the biggest surprise of the whole garden.
On the maintenance side of things, I just ordered my box hoe, and will be far more diligent in efforts to maintain weed order. Clearly too, I must pay more attention to better training and supporting plants such as my tomatoes. Thinning seed-started plants is critical. And I'm going to get me a Japanese Beetle bag like the one at Jo & Mike's to dissuade the little buggers from making my broccoli and other plants their supper.
A Fall Crop
The Box Hoe I just ordered is coming in two days, and I'm going to start clearing out the oh-so-carefully laid out rows I designed early on, hoping to keep weed-free and organized with the best of intentions – which truly fell short.
I'm going to cut back my snow peas, hopeful they will regenerate as the cooler weather approaches.

I'll replant another round of Mescal Mix lettuce, Romaine lettuce and spinach as soon as I get a mesh fence to bunny- and chipmunk-proof the fence.

I'm going to pay more attention to my squashes, and try to encourage some late fruit

Lastly, I'm going to commit to paying more attention to my garden and put in the time needed to get the harvest I've now seen possible.
For now though, I'm going to relish the memory of the feast Michael produced almost solely from the fruits of their garden. You see, Michael is a chef of singular talent and has an instinct for spices: he's learned and is living the traditions of his family, and is also an accomplished restauranter. And frankly, he made one of the best meals another BFF and I have ever had: Baba Ghanoush from their eggplants; Eggplant (and Chicken) Parmesan; Luby, which is a sauteed string bean dish with tomatoes and onions, a great salad, and soft fresh pita. Simple, well-prepared, and fresh goodness.
You know, I've come to think that's what gardening is all about.
___________________________________
Lucille (Tom's Mother) & Sister Doris' Refrigerated Sweet Pickles
7 cups thinly-sliced cucumbers with peel
2 cups sugar
1 cup vinegar (white or cider)
1 green pepper
1 onion cut thin
1 teaspoon salt
1 teaspoon celery salt
Mix all ingredients and store in refrigerator - ready in 24 hours. Keeps 3 months.
___________________________________
Tom Lanen is a family man, 'marketing & creative imagine guy' for New England Hydroponics' 4 MA and online stores, and principal of ThomasBoston.com, a branding & creative services business. His recent penchant for gardening continues to surprise and delight him, having never really grown an outdoor garden short of a couple tomato plants in his wife Bonnie's eclectic 'Weed Garden,' which is currently thriving at his log home in the deep 'burbs of Boston.