New to Gardening? Start here:
Family Project: Starting an Outdoor Garden 2020
Additional reading:
Getting Ready For The 2021 Outdoor Veggie & Flower Growing Season Part 1
Getting Ready For The 2021 Outdoor Veggie & Flower Growing Season Part 2 - Resources You Can Use
It's been a typical cold Spring in Massachusetts, only now just getting warm enough to get out in my garden, which I've been yearning to do. And, while I never thought I'd say it, I miss having the time this dastardly plague forced upon us during the spring of 2020. There was something really peaceful and spirit-building about being able to escape the madness; my garden became an oasis of calm and beauty even Covid-19 couldn't dampen.
Fact is, though with the ramping up of 'normal' life, and its inherent anxieties and worries, I probably need my garden time more than ever. So while my plan is to reduce my overall garden size and the number of things I grow, there's no doubt about it: gardening has become an essential part of my life.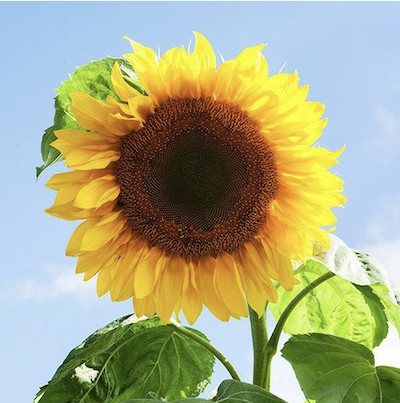 This season I'm going to focus more on enhancing the quality of my harvest, which for me, after years as a marketing strategist, starts with defining my goals and giving my toils a purpose. Because if I learned anything last year it's gardens don't grow themselves. Well, actually they do, but not to outcomes upon which you can count. That requires a commitment.
And this season my goal is to raise mammoth sunflowers for my winter birds. But my hope is to find the peace of mind I found last season, with Mother Nature providing the awe and wonder that puts the problems and challenges of the moment into a more balanced perspective.
Need a purpose for your garden? How about attracting bees, which keep harmful bugs away? And, the honey bee population now mysteriously dwindling will thank you.
Preparing The Soil
Having been influenced by the film, The Biggest Little Farm, which documents how a couple bought a spent farm in Southern California and brought it back to life using the principles of bio-diversity to reclaim the earth, my first step is to roto-till the remnants of last year's garden back into the soil.
Now of course I built my raised bed last season, so I don't have to reinvent the wheel. If you're starting a new garden check out the post about how I built my frame using scrap wood and some good old American ingenuity.
I really became a believer in raised beds, which keep the soil in the perfect 65-75 degree F range plant root zones need to thrive. They also warm up faster, so seeds geminate faster.
I have also got into the habit of composting my lawn clippings and leaves and any organic matter, which provides some texture and richness to my soil. I'll amend this base with some good organic soil.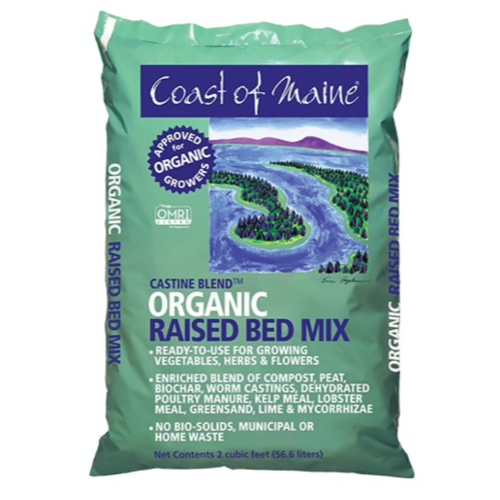 We have many soil amendment options, including:
Coast of Maine Stonington Blend Organic Soil

Coast of Maine Castine Raised Bed Mix

Coast of Maine Stonington Plant Food

Coast of Maine Bar Harbor Blend Organic Soil
Coast of Maine Lobster Quoddy Compost

FoxFarm Ocean Forest Organic Soil

Keep your soil pH in mind – it matters. To check it, make a slurry of dirt and plain water, let sit a bit, and then measure the pH of the water with a pH tester/meter. Or, you can just buy a simple pH soil tester made for the purpose.
Planting Early Crops
I've selected a couple cold weather veggies I love to get into the earth early, namely spinach and onions.
Others you could try are (links):

The one plant I've always wanted to grow is Strawberries. Problem is, they don't bear fruit until the second year in the ground, and only then for a year when they must be replanted. That's a little too long range for me, so it's to the local strawberry farm for my desserts. If you're interested, there's a wonderful article on growing strawberries
at Gardening.org.


Final Planning for The Season

Time's growing short for choosing your seeds from the top seed houses; some of the more popular veggies and flowers do sell out by the time to plant.

The good news is New England Hydroponics carries FRESH 2021 seeds from High Mowing Organic Seeds, a brand which I used last season to excellent outcomes. We chose High Mowing Organic seeds very purposefully – read their story and you'll see why.

For now, it's going to be a process of chipping away at all the tasks having a garden entails, and as the weather allows.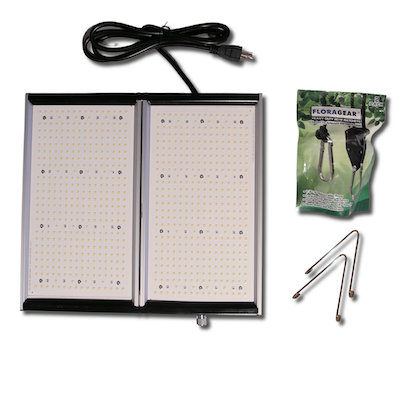 I'm just really happy with my Sunflower starts (in main photo above), which have been doing very well under the new FloraGear FLORA S2 full spectrum LED grow light I have hanging in front of my desk. I'm also glad instead of broccoli I decided to add more flowers to my little garden plot, including chamomile for my nightly hydrating tea.
In short, this year my gardening has a purpose beyond gardening for gardening's sake. Because if I learned anything last year, it was gardening is all about controlling the elements your plants need, and the weeds.
But it still has to be fun. And already, it is.
Tom Lanen is the 'marketing guy' for the 4 MA New England Hydroponics stores and neHydro.com, and principal of Thomas Marketing Services Corp. (ThomasBoston.com). A family man, he always has a project going at his log home in the wilds of the deep Boston burbs, and is surprised he's become such a passionate gardener after many years on the water as an avid sailor.