I'm getting excited. Today it's in the mid-sixties in central Massachusetts, and the snow is making way for crocus', and I think heard a robin sing when I peeked outside at lunch.
That means it's time to get the garden plan in play, and to get some starts going. What? You don't have a plan yet? Not to worry!
With the experiences of just one season of outdoor gardening guiding me (and 6 years indoor gardening), and the blog I wrote here last season documenting it, my plan is simple. Instead of going it alone based on my years of indoor gardening, I'm reading up on the wealth of information here on the inter-web, and then will simply plot out my growing tactics based upon what I want, and suggested planting times.
I'm also looking for some bio-diversity if for no other reason than the principle. My sense is the more we emulate Mother Nature the more likely the chance for success; she is the epitome of design, function driving form.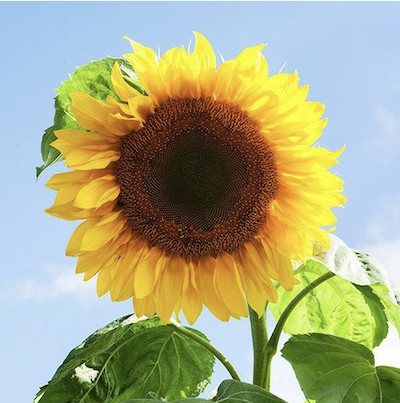 Purpose-Driven Gardening
Rather than speard myself thin as I did last summer, I now have a primary goal for this season: to grow and harvest the seeds of giant sunflowers to augment my winter bird feeding obsession. I think if I focus more on a do-able singular goal, one with purpose and function, it will ultimately be more fun. My indoor gardening experience suggests it's not about the quantity but rather the quality of any given plant or focus, so I think it's a sound strategy. And at this point in my life too, I like the challenge of digging deep; there's something satisfying about it after a lifetime as a marketing generalist.
I've decided broccoli will be my secondary challenge. I had tried starts last year under inadequate south-facing window light, and they got so leggy stretching for light they never took when I tried to transplant them outdoors. I did try planting seeds outdoors, which gave me a sense of what the plant should look like, so I have a basic knowledge base. This year I want stir fry veggies!
Getting Starts Started: New Lights, New Tactics
My starts strategy is simple. To start sunflowers and broccoli only, under controlled conditions. The rest of my garden: greens beans, beets, onions, spinach, kale, romaine, pickling cukes, and flowers will go directly into the ground.
For the record too, I'm dividing my 11' x 7' garden in half length-wise, giving my wife complete control over her half, and me a more manageable 5.5' x 7' gardening situation. This still gives me 9 – 4 square foot plots, some of which will also be rotated or re-planted as the season goes on.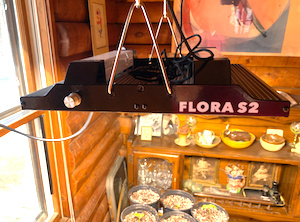 This year I also have the opportunity to use new full spectrum LED grow lights for my starts, the FloraGear FLORA S1 and FLORA S2. Real pro-level tools, both are ideal for propagation and small grow tents (2x2 to up to 2 x 4). Plus, with their sleek low-profile design and passive cooling, they're silent and easily good looking enough to fit within the décor of many homes looking for effective house plant lighting.
At 100w and 200w, they are extremely low cost to run. But the amount of beneficial full-spectrum light the hi-intensity LED chips put out may astonish you; they are not your grandfather's 100w and 200w incandescent bulbs. Not even close.
They offer what the lead plant scientist at New England Hydroponics characterizes as "an exclusive combination of 4000k and Far-Red spectrum chips, which provide a massive light spectrum 'backbone' for more robust reds and blues, and more spectral depth and colors plants require for optimum growth throughout the vegetative and bloom phases." In short, they have the blue spectrum for lush vegetation and the red spectrum for full fragrant flowers.
The good news is they have built-in infinite control dimmers, which allows better control of light intensity from fragile starts through power-seeking flowers.
So off I go. My first round of sunflowers have popped and will get transplanted, and then I'll get in a round of broccoli. My first round of sunflower seeds convinced me of the value of seed plugs; it's just a cleaner process and easier to transplant than starting in loose soil.
What and When To Plant – Resources and How-To Plans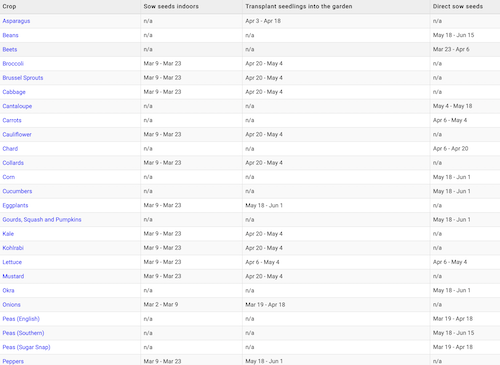 For the ambitious multi-crop gardener, I can think of no better resource than Garden.org. It's where you'll find a wealth of information, including a handy guide for planting seeds in your region driven by your zip code.
A Way To Garden by Margarete Roach is also a delightful expert resource for when and how to plant tips.
New England Hydroponics carries High Mowing Organic Seeds, which I used last year to excellent outcomes. I also use them because I'm very aligned with their organic family farming mission; to me making a difference starts with supporting people of goodwill wherever and whenever you find them.
I'm also plotting out my 9-core planting areas, using one for sunflowers but also using sunflowers along the far edge of the garden. Fact is, I spend $150+ on sunflower seeds for my birds and squirrels every winter, so I'm going to max out my sunflowers using the land I have allocated.
What's Next?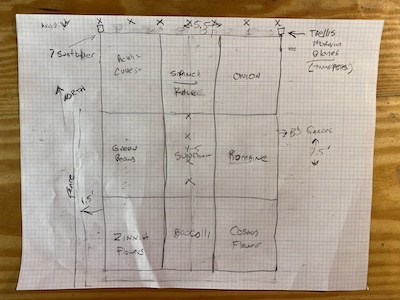 Right now the New England region is still pretty frozen, so with the exception of clearing some branches that fell on my garden over the winter, I'm looking at different things when I go into the store – fencing to keep out the bunnies and chipmunks, soils I'll be mixing into my garden area to replenish the nutrients, and well, just day dreaming for those true spring days.
The good news is now that daylight savings time has kicked in, they'll be here soon!
Starting Sunflowers - The Process
I used seed plugs (Root Riot) and Light Warrior Seed Starter soil to start my sunflowers, using a simple starter tray and dome. Before watering I adjusted the pH of the water. When transplanting, I first put drainage stones in the bottom of the pots and filled pots with Light Warrior Seed Starter Soil and watered with pH water (pH range: 5.8-6.5). I also use Buddhas Tree Organicus 99% plant food, an organic 4-3-2 (high on nitrogen for leafy growth - soon to be available on neHydro.com). My FloraGear FLORA S2 (above) LED Grow Light is on full power about 36" above the plant - it's not enough to just count on the sunlight in south-facing windows or plants will get leggy.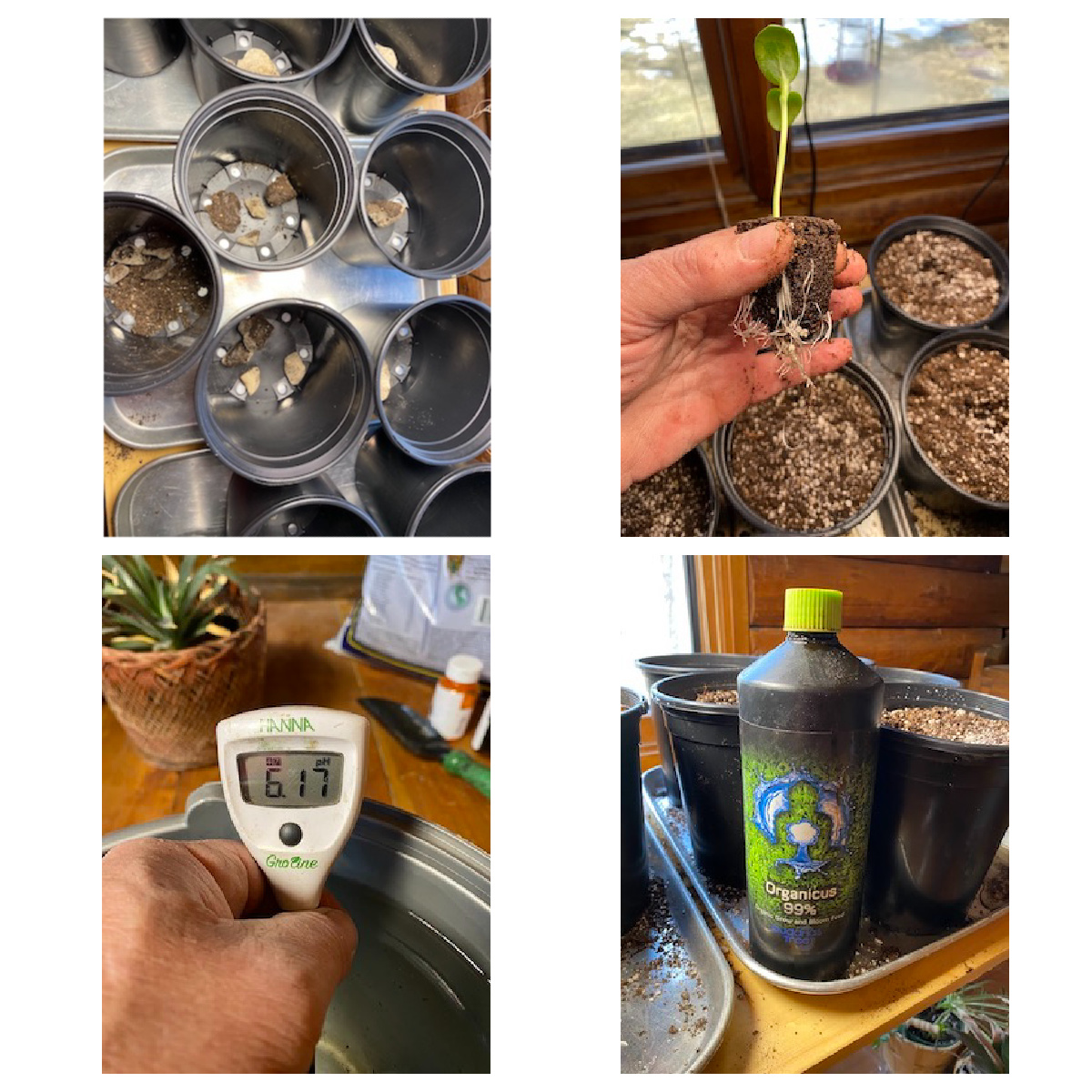 A family man, former sailor and now gardener/hack golfer, Tom is marketing guy for the 4 MA New England Hydroponics stores and online, and is also the principal of Thomas Marketing Services (ThomasBoston.com). He can barely wait to get out to the yard and get his garden going, this year giving half of the garden he started last year to his wife so he can focus more on his goal of growing sunflowers to feed the birds during winter months.